BBC
-
'decapitated man' halloween display in Tennessee sparks 911 call
. With a helpful image of what a 'decapitated man' halloween display looks like: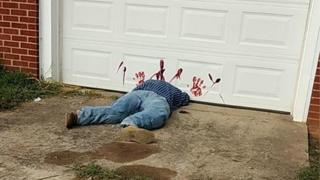 With a very good-natured response from the police, believe it or not!:
Greene County TN Sheriff's Department wrote on Facebook: "ATTENTION EVERYONE!!! For those of you driving on Chuckey Pike in Greene County: THIS IS A HALLOWEEN DECORATION!

"Do NOT call 911 reporting a dead body. Instead, congratulate the homeowner on a great display."
I guess the homeowner must be white, otherwise the cops would have murdered him and gunned down his family.